Standing Together With Compassion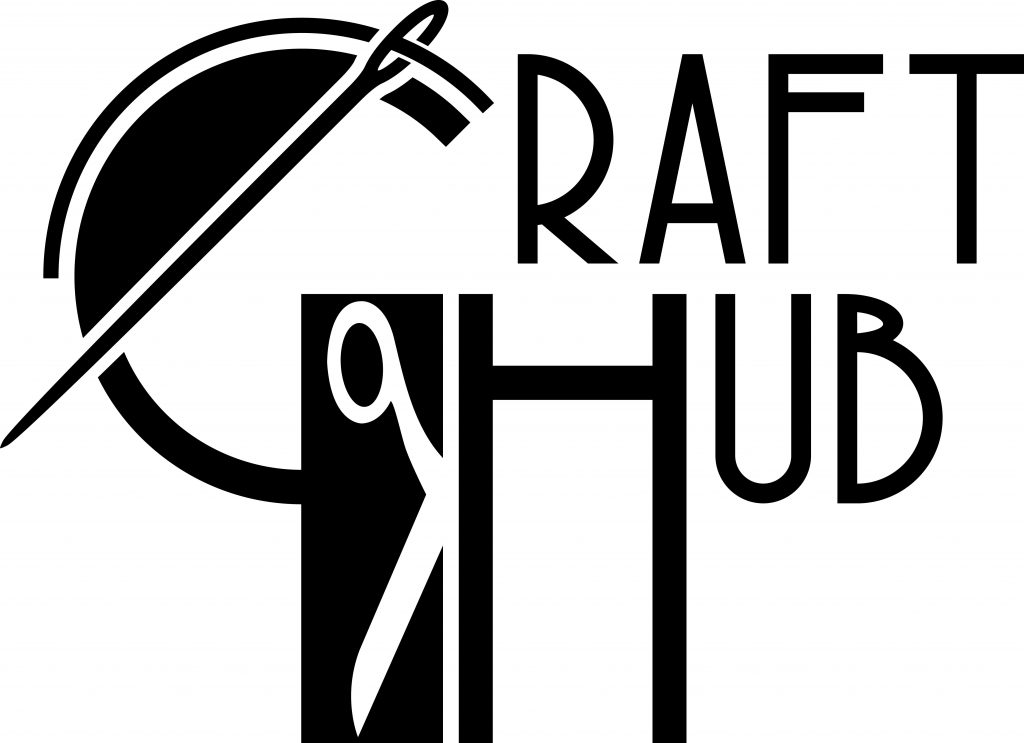 Jacobs Wells Craft Hub entered a piece of artwork into the Holocaust Memorial Day 2020 "75 Memorial Flames" project.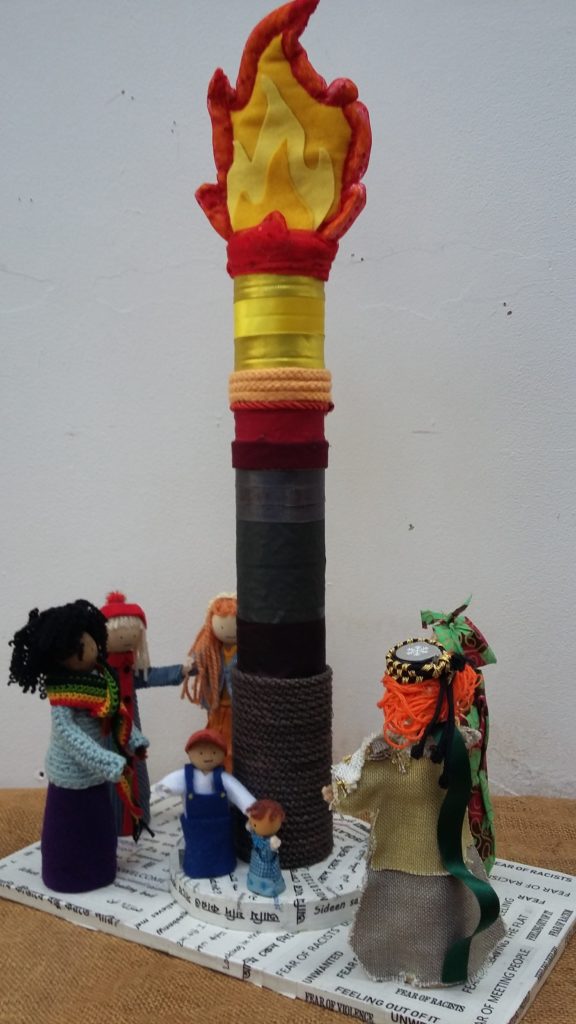 Standing Together With Compassion
In our Bristol neighbourhood of Jacob's Wells there was a time when the community faced severe discrimination. The Jewish community were outcasts and forced to live outside of the City Walls. This is our history. Our hub's aim is to do all we can to bring people together regardless of age or ethnicity. To help and accept one another. To have a place where we can stand together and show compassion. Standing together with friends and neighbours we realise that we are not alone and that it is not unusual to sometimes feel the way we do.
The 75 Memorial Flames project, especially its theme of "Standing Together With Compassion" inspired our sessions for the few months that we worked on it. We discussed the implications of the Holocaust and how communities must stand together to protect the vulnerable and isolated members among us. We expressed this in the words (in many different languages) on the base of our Memorial Flame and our multicultural figures stand together round a candle which develops in colour from the black of horror and despair through grey and reds and yellows to the ultimate flame of hope bursting out at the top. The materials used were all recycled. Some were from clothes no longer worn (for example the flame is made from a shoulder pad). Each figure was made with great care by a particular member of the group and each member brought their own materials and character to him or her.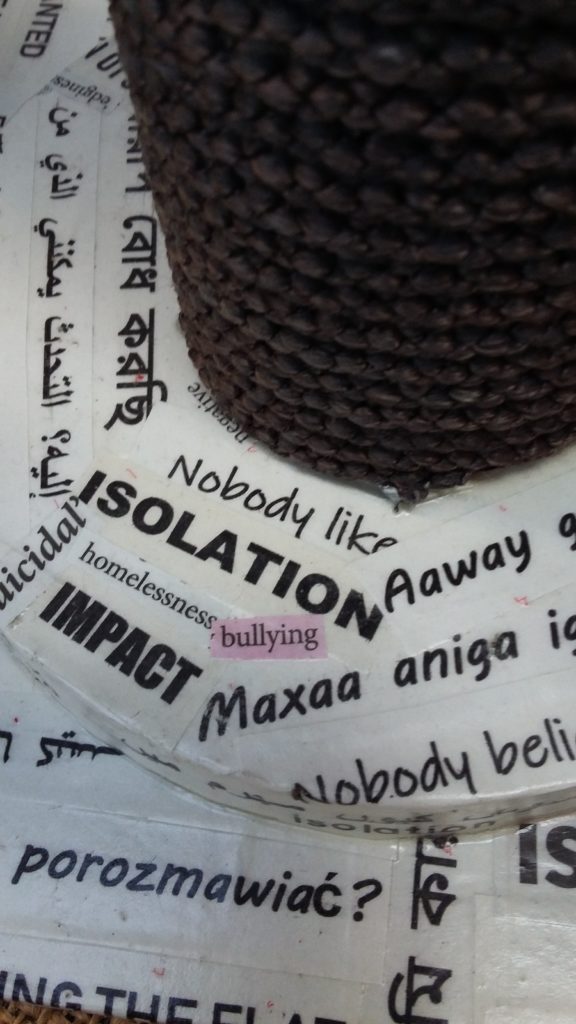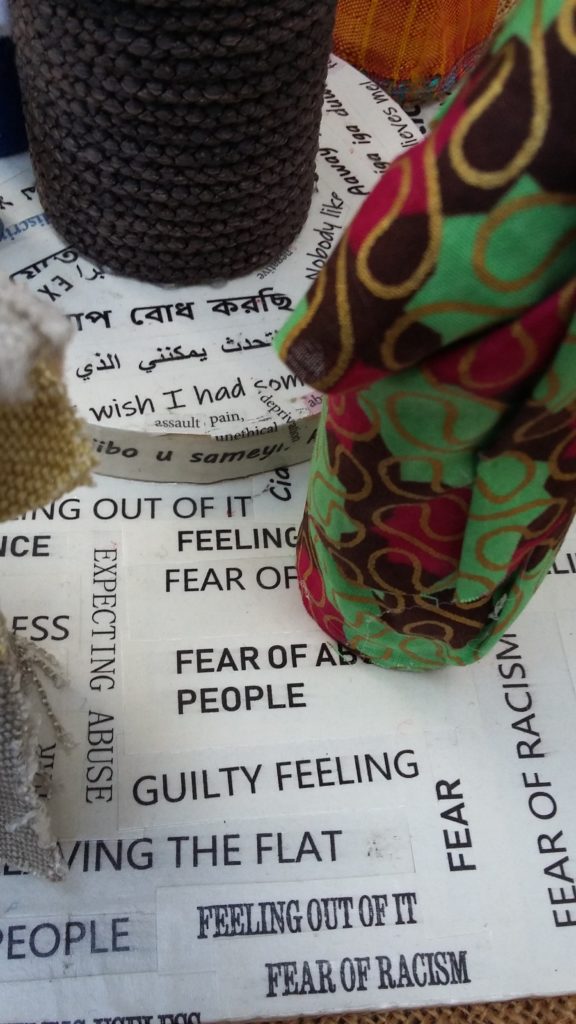 Jacob's Wells Craft Group met weekly in a semi derelict Victorian swimming baths building that we are saving for our community. The group was founded in by Sally Silverman in July 2016 as part of Jacobs Wells Community Hub and is part of the Bristol Link Age network. We acknowledge the significant support from Jenny Ford, at Clifton Hill Textiles where the group met for the first year. We reused materials donated by Clifton Hill Textiles when they moved out of Bristol and we continue to actively recycle rather than buy. In our informal sessions we chat and share skills or revisit ones long forgotten.
Content and direction of sessions are decided on by all taking part, currently 6 to 8 members. The group is informal, drop in and requires no previous skills or experience. It is open to all but current age range is mid-sixties to mid-eighties. We continue to meet post Covid.
Jacob's Wells Craft Group, part of Jacob's Wells Community Hub in Bristol, is based in a very important part of Bristol for the history of Jews in England. Our Grade 1 listed well has the oldest Hebrew inscription in the country, suggesting a ritual use of the waters before 1290 when Jewish people were banished from England. We are not an exclusively Jewish Group but are very aware of the area we represent. The group produced a banner celebrating water in our area and the saving of Jacobs Wells Baths due to our campaign. This is now displayed in the Create Centre in Bristol and is described in the Hub website (jacobswellscommunityhub.com). We are now planning an Interpretation Board for the site of the currently neglected well.
The 75 Memorial Flames project, especially its theme of "Standing Together With Compassion" has inspired our sessions for a few months. We discussed the implications of The Holocaust and how communities must stand together to protect the vulnerable members amongst us.We expressed this in many different languages around the base of the flame.
Previous major projects included a collage representing the history of our area, now displayed at Bristol Archives near the cafe area.